Fully catered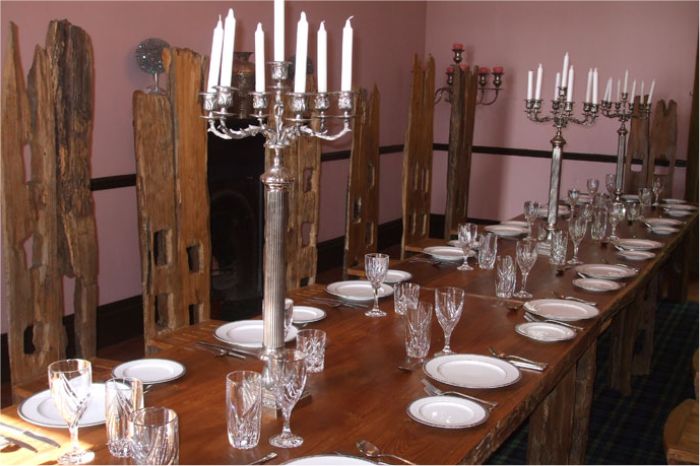 Craigrownie Castle provides an ideal location and space for house parties – all different types of get togethers and gatherings from birthdays, family reunions, anniversaries, college reunions, murder mystery weekends, hen parties, stag parties and castle house party …the list goes on. All of these kinds of special occasions go so much better and are enhanced in the baronial splendour, spaciousness and luxury of the castle as well as the physical beauty of the loch side setting. It is a winning combination guaranteed to turn a special occasion into a memorable one.
And while you are bonding and generally having fun, you do not need to worry about having to find somewhere to go out and eat or drink. Our all-inclusive fully catered service means that you will be waited on hand and foot for breakfast, lunch, afternoon tea and dinner. We even throw in the price all your wines, beers and other drinks.
We never restrict our catering to just gourmet. We give every opportunity to our guests for trying amazing food by our fantastic chefs and serve it by our caterers. Our menu has not only extraordinary combo of various food items but also the flavor of love that creates real taste for transforming every simple dish into special.
The way we serve it reflects the beauty of our skilled caterers. Our catering service always tries to serve dazzling taste every new morning to you. Your eagerness will roll high to have every next meal once you taste the very first of our dishes. The quality of our ingredients and the way by which we garnish will pop-up your eyes and give your tongue an experience that you never want to get erased.
Some of our dishes standout in taste and quality that mark as signature dishes of ours. But you will be on cloud nine when our chef and caterers will ask you to suggest what you want to have special. Whether it is your hen party, stag party, murder mystery night, house party in Scotland or Anniversary party, serving the gourmet of your choice will be our token of lovable service for you.
You will be obsessed to our castle in Scotland and will continue to search reason for hitting this elegant place again and again. The flavor, the texture, the garnishing and the toppings all you will catch will be at perfection. We promise to steal your heart with the savory of your choice in addition to our own.
Pages: 1 2